SEIKO 7002 YELLOW MONSTER DIVERS WATCH H20 RESIST 150M
Buy it Now £119
BUY IT NOW £119
We regularly ship to the Netherlands, France, Germany and, of course, the UK!
Buy from a trusted seller in the UK - no import taxes for European buyers (watch in stock in England.)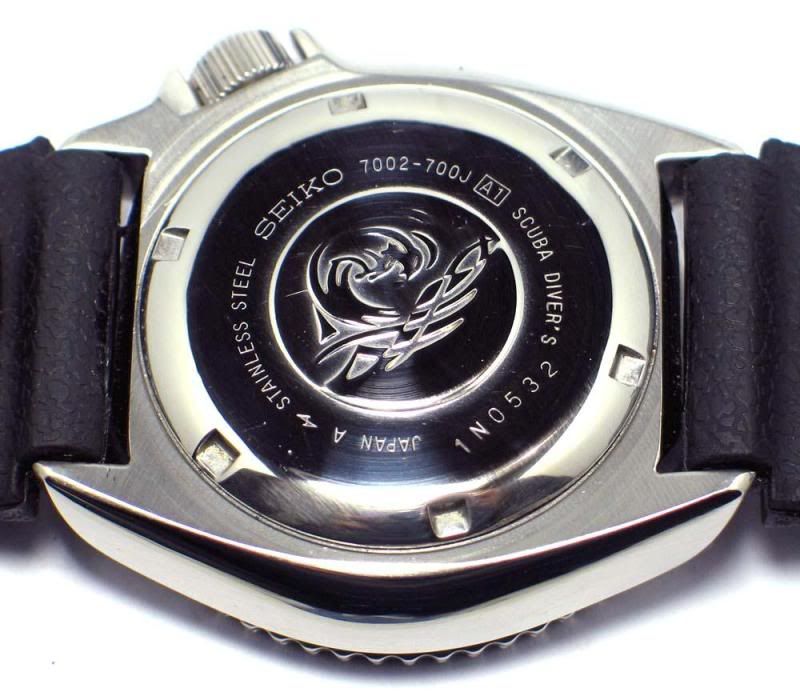 This stunning watch has recently been fully overhauled by a Master Professional in the Seiko diving field. It has been:
Ultrasonically cleaned with watch cleaning solutions and then rinsed before a full service is performed (including oiling, replacement of gaskets and polishing of case).
It has then been tested on a vibrograf to get as accurate as possible (remember that it is not a quartz - it has fully 110% more character than a battery driven watch!!!)
Importantly - this watch has been fully water tested to 150M. My customers are always asking for water resistant watches and they are hard to come by.
The water resistance is guaranteed for 6 months providing the crown is screwed in and it has not been damaged in a hard knock etc.
This is NOT a Seiko monster but will appeal to monster fans who like their big dive watches with bold and striking colours.
Watch description follows:
·

STAINLESS STEEL CASE MEASURING APPROXIMATELY 40MMX48MM, WITHOUT CROWN AND FROM LUG TO LUG
·

STAINLESS STEEL CROWN - FUNCTIONS PERFECTLY
·

QUICKSET DAY DATE AT 4 O'CLOCK,
·

ORIGINAL CRYSTAL BUFFED.
·

SEIKO 7002 MOVEMENT WORKS - KEEPING TIME, RUNNING STRONG (Fully serviced and sealed)
WATER RESIST TO 150M GUARANTEED!!!
·

STAINLESS STEEL CASEBACK. SERIAL NO CAN BE VERIFIED.
COMES COMPLETE WITH BRAND NEW HIGH QUALITY Z22 RUBBER BAND!
This is NOT a monster watch but will appeal to all those Seiko fans who love their bold, striking dive watches.
Have a look at other models at
Consider purchasing the ultimate watch strap for this watch, postage will be reduced. Click on other items!